DRESS CODE
When we go to work any venue in or out of town we are STILL representatives of our Local and of our brothers and sisters. We should always put our best foot forward whenever we work in any room contracted or not and we should always follow this dress code.
NO SANDALS or open-toed shoes. This is physical labor so you must wear shoes that enclose your foot. Wear sneakers, work shoes or work boots.
LONG PANTS that are denim or jeans type are the preferred pants. (Sweat pants are acceptable but SPANDEX IS NOT ALLOWED.)
In the warmer months shorts (short pants) are acceptable. Should you wear shorts make sure they end at your mid-thigh.
Take this test before you leave your house-
put on your shorts, stand up.
Now let your arm hang down at your side.
Find your middle finger now add 1" to it and that is were the bottom of your shorts should be. And again NO SPANDEX!
T-shirts with the IA 347 Logo are preferred however you can wear a standard NON OFFENSIVE t-shirt or shirt that is normal to our type of work. NO SPAGHETTI STRAP TYPE TANK TOPS ARE ALLOWED.
ALWAYS CARRY SHOW BLACKS WITH YOU OR WEAR THEM FOR THE LOAD IN CALL. This outfit should be long pants, black or dark colored shoes and of course a black shirt. IF you do not have your blacks you will lose your show call.
Tools are part of your wardrobe. Always have your work gloves, a crescent wrench (aka C- wrench, adjustable wrench or spanner) and a gerber or leatherman type tool on your person.
PARKING

If you are on the payroll for theColiseum or Koger Center you are eligible to apply for a "Z" decal from USC Parking Services. To obtain your decal stop by the USC Parking Services offices located inside of Pendleton Street Parking Garage. That is located at the corner of Pickens and Pendleton Streets on the USC Campus.

Please review the map for USC parking. You may also visit USC Parking online: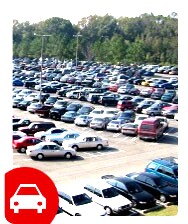 If you are only on the Colonial Center payroll you are not eligble for a USC parking decal so you will need to use the gravel parking lot beside the building(by USC Maintenance offices) or explore the off road parking available off Gasden St. past the load in docks heading back towards Gervais on the one way street. If you make it back there you should see Ms. Betty, ask her.

The Township has a parking lot behind the building. Normally you can park there for load in's. When you return for show calls or load out be prepared to park on the street in case the lot is full or your access is denied. Ask your steward.